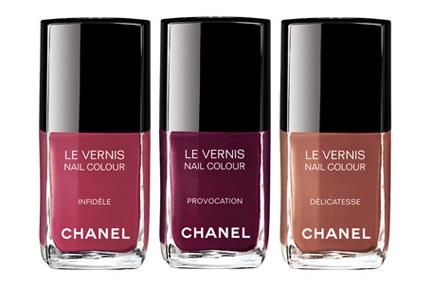 As you may have noticed the new chanel polish are OUT! Vogue Fashion Night Out 2012 has past and was an amazing event as always. Like every year Peter Philips, the creative director of Chanel Makeup, created an exclusive limited edition of nail varnish colours – Chanel Le Vernis: Délicatesse, Provocation and Infidèle.
As we all know Chanel is quite expansive, a single nail poish cost 20 euros, but i think that sometimes is fine to treat yourself and i think i'll get PROVATION one of these days.
Chanel is always the one who chose the season colors trend, every year Chanel is first to comes out with new colors and then all others barnd try to follow those colors, so i think that when you buy a chanel polish you're not just buying an 'expensive' thing but you're purchasing a new trend.
Are you going to buy any of these colors?
Love, Lucy